Sip, Savour, and Celebrate: 5 Unique Ideas for National Coffee Month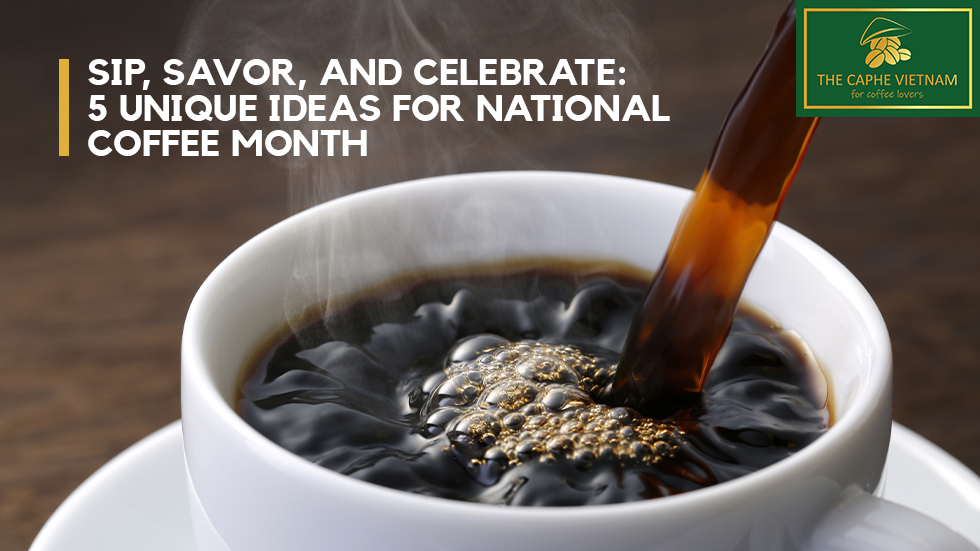 Hello coffee lovers! August is a month of possibilities, opportunities, and the wake-up button for your yearly achievements checklist. But it is also officially National Coffee Month! This fact is a favourite of all coffee lovers who love to start their day with a cup of steaming caffeine and find solace in this beverage at various times. Whether it is to refresh a sobby mood, remove sleepiness at work, or get a caffeine shot, to cheer you up after a stressful day, coffee has always been a go-to drink and is sometimes more reliable than even your BFF. A beverage like that coffee, considered a revolutionary drink propelling people to put on their thinking caps and start revolutionary movement definitely needs an entire month as a token of gratitude. We all love coffee, and in this most-awaited National Coffee Month, we share 5 unique ideas to celebrate your love for this global pick-me-up and make it memorable.
It is mid-August, and this is a gentle reminder for you to catch the buzz without further ado!
Let us embark upon a journey of discovery!
Browse cafes that brew the best caffeine in your city
If you have been delaying a delectable morning breakfast with a bountiful coffee all this while, make browsing cafes a priority this month. This weekend, visit local coffee shops, taste their unique brews, and satiate your caffeine needs. Sometimes, the local coffee shops are the most underrated coffee destinations that offer the best coffee to destress you instantly. Savour the coffee sip by sip, soak in the artistry of the ambiance, and speak to strangers who love coffee to simply get out of your shell. It would certainly be worth a shot!
Catch up with your besties
Never found time to catch-up with your besties? Urban city life, ruthless traffic, overworking, and a lack of energy take away a lot from you. This is the time to call your loved ones for a trip to the baristas across the towns and strengthen the bond. After all, friends are the families we choose, and what better than re-inventing friendship with your long-lost buddies over a steaming hot cup of coffee. If you haven't shared your latest life updates, office gossip, or personal sagas with them, check these off your list with your loved ones. Sharing is definitely caring in this case, and you won't need any other special occasion to do so.
Love the cosiness of your house? We have something for you
Some of you love to spend time with loved ones indoors. Call over your friends, family, and loved ones for a National Coffee Month morning breakfast get-together. Time to flaunt your latest outfit, crockery, and tableware and inspire them to make their homes cosy and welcoming. The Vietnamese Phin filter is the best filter to brew some rich caffeine in the
comfort of your home. Grab the opportunity to be the best host in town and relish the coffee moments with your loved ones over a Netflix show or an intense gossip session. After all, we all live in our memories, and it is worth making these beautiful.
Save on lucrative discounts this season
We all love discounts, and during National Coffee Month, many baristas bestow us with a rain of freebies and offers. Get drenched in the offers, relish your coffee mugs, and do not splurge a lot. With the money you save, you can always go for another caffeine shot for that much-needed bout of energy and enthusiasm to refresh your life.
Flaunt on social media platforms
If you browse social media now, you will see hashtags for the coffee month. Many local cafes urge you to visit them with your friends and loved ones, purchase a cup of coffee, click Instagram-worthy pictures, and add #nationalcoffeemonth to your posts and tag them. This indirect marketing helps you get further followers, lucrative discounts, complimentary snacks, and a new bunch of coffee-loving customers for the business. After all, a little service is not bad to express gratitude for a symbiotic relationship between you and the baristas.
We sincerely wish that you make the most of your National Coffee Month celebration with your loved ones and embrace this drink that has created history, love stories, united friends and co-workers just by its aroma, delinquent taste, and various benefits on the human mind and body.